A Guide to BEAD's Workforce & Construction Requirements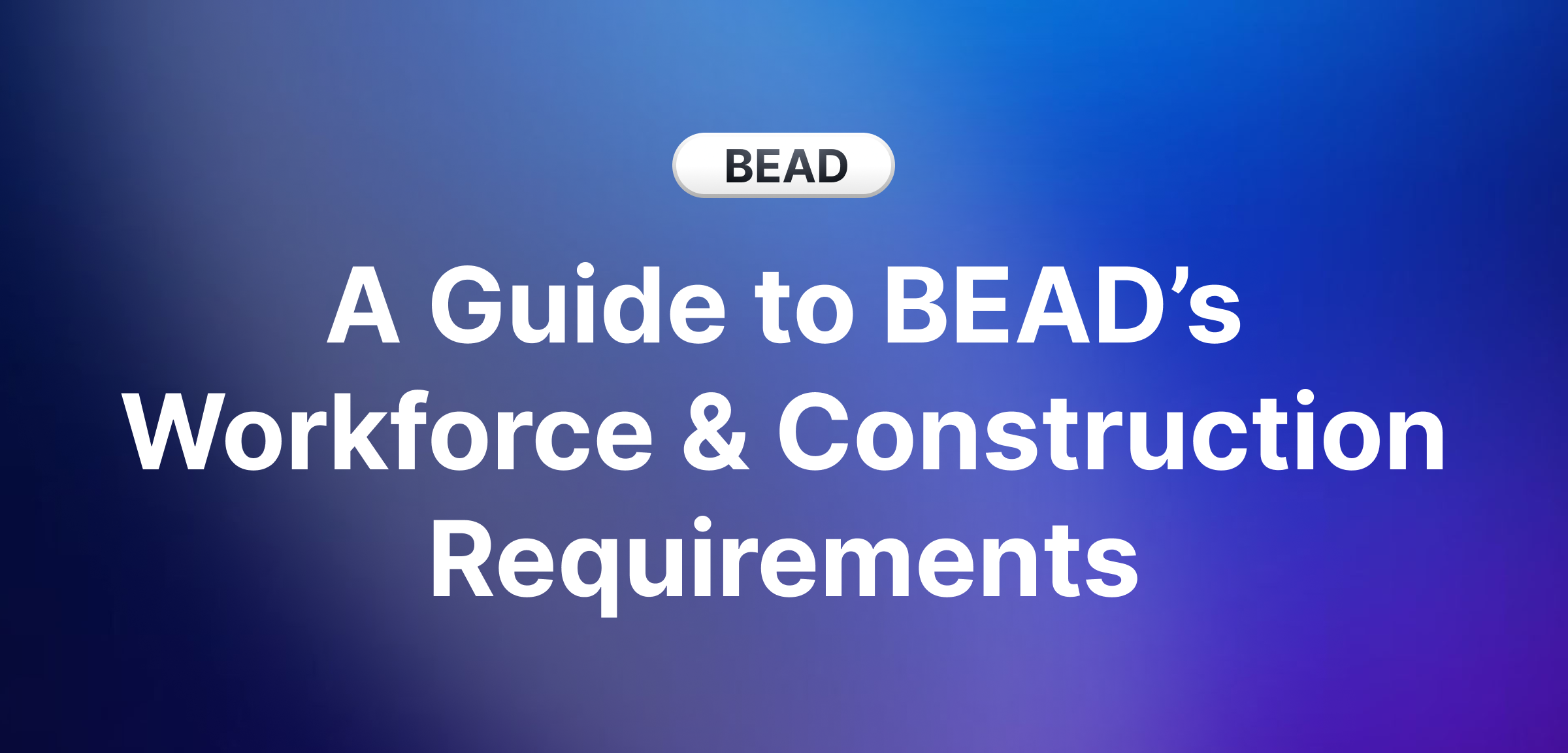 The time to apply for BEAD's generational $42B of funding is almost here.
BEAD imposes a number of requirements on how you manage your construction workforce, constractors, and subcontractors.
Here's what ISPs, RECs, cities, and other applicants need to know to get (and keep!) funding.
Will BEAD make me change how I build a network?
Accepting BEAD funding will introduce two core requirements, that are likely new for most ISPs and RECs:
Centralized Reporting: Information that's normally untracked now needs to be available and preserved - including bidding, procurement, safety, and construction data
Contractor-level Transparency: BEAD demands more visibility into contractor and subcontractors than standard, requiring data collection from your full chain of contractors.
OK, so what do I need to do?
We've reviewed a lot of paperwork to help understand what's needed for BEAD. It boils down to 4 core areas:
Pay and Wage Tracking
Bid Management and Procurement
Safety and Certification Management
Construction Progress Tracking
While specifics will differ by state, here's a general outline of what you'll need:
Pay & Wage Tracking
To do: Collect prevailing wage certifications or wage scales for your workforce and subcontractors
What's changing? For grants exceeding $5 million -
all workers must be paid at least the prevailing wage
OR, you must submit a local impact report which will require a detailed list of wages for every worker, by job classification, and an indication of whether they meet or exceed the prevailing wage.
Many states will extend this prevailing wage requirement to projects of any size (based on some Initial Proposal drafts already submitted)
Bid Management
To Do: Keep a record of RFP activity and quotes you've received
What's changing? Monthly, project-specific reporting on the subcontractors and contractors involved in BEAD-funded construction. If your workforce is not unionized, you'll also need to report the number of employees by job type. Make a demonstrable effort to engage Minority Business Enterprises (MBEs) and Women Business Enterprises (WBEs) in contracted work.
This information is best collected during bidding / preconstruction. Relying on untracked emails & spreadsheets won't cut it (unless, of course, you have a lot of spare time).
Safety
To do: Collect safety and job certifications by job category for your team, contractors, and subcontractors. In some states, you'll need to collect the actual certs for each employee.
What's changing? You must have a plan to ensure your construction workforce is safe, skilled, and credentialed, whether they are directly employed or contracted.
Best practice - Keep up-to-date safety certifications for each individual to streamline audits and ensure compliance.
Progress Tracking
To do: Monitor and report your financial and construction progress
What's changing? Grant recipients are required to submit regular updates, potentially as frequently as monthly. These updates will need to include information like:
The current status and percentage completion of each project.
Expenditures related to the project, represented as a percentage of the total grant amount.
A list of entities that have been awarded contracts or subcontracts.
While you likely already track this information for existing network expansion work, many do it across a myriad of spreadsheets and different systems. BEAD will necessitate that all of this information be easily accessible and regularly reviewed.
We're here to help
Clad is software to manage contractors and the complexities of the back-office of telecom construction.
We're building a solution that's custom-tailored to eliminate BEAD's administrative burden.
Want to chat more about streamlining vendor management, and how Clad can help with BEAD compliance? Get in touch, we'd love to chat!